The 'out of sight, out of mind' rationale, is one of the key drivers of using landfill sites, which has subsequently created the well-documented problem of waste management on a global scale.
We are sure that by now, all are aware of the dangers landfill sites bring to our world – toxic waste, methane and pollution to name but a few.
At Floorstore, this is something we are passionate about changing, and over the years, we have implemented many initiatives to help combat climate change and pollution. Our commitment to recycling and sustainability is clear, through our current collaborations with Carpet Recycling UK, Sonoco and Ball & Young to name but a few. However, this is no cause to brag – there is always room to do more and so, this is exactly what we pledge to do.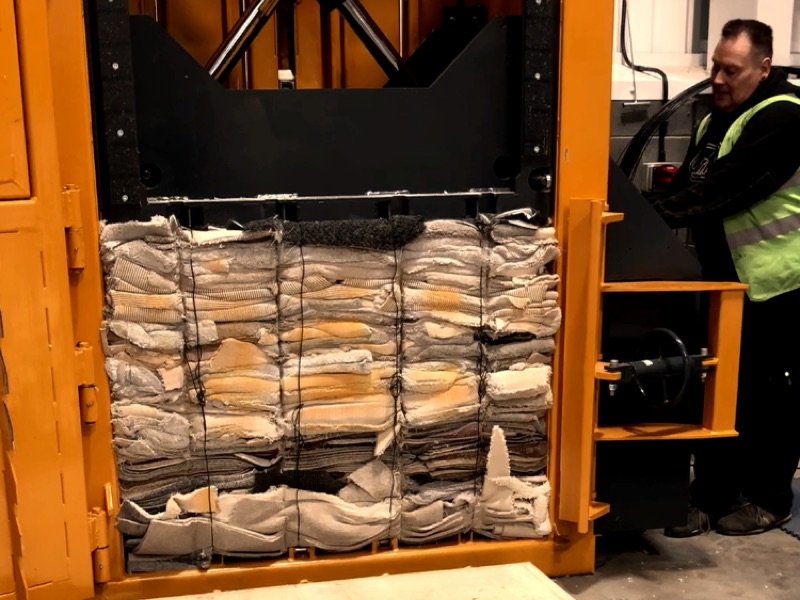 To deliver on this, we have teamed up with the Finnish Manufacturer, Kenburn, who design and manufacture market leading waste management solutions. Kenburn share our vision of sustainability by providing solutions that save money, reduce waste, save time, improve the working environment and enhance our overall green credentials.
Until recently, a small percentage of our leftover or cut off pieces of new carpet did end up in Landfill. This is something that is hard to admit but, a problem needs acceptance before it can be solved and addressed. Of all the initiatives we have been part of and lead ourselves, this was a problem which did not sit right with anybody here at Floorstore. Once we clearly identified this issue, we wanted to act so we did exactly that. Now, none of our leftover product goes into Landfill. None. AND even more importantly, it gets recycled and redistributed in the form of felt pads which have a great number of uses but for the main, are used within mattresses – mattresses that you may well be sleeping on!
The benefits of diverting new and uplifted recyclable carpet and underlay are numerous but from our perspective, the two key factors here are reducing our need for landfill to zero and, the genuine cost-effectiveness of reselling our repurposed products for the benefit of a host of consumers. It all just makes sense. So the question still stands…how do we repurpose our leftover carpet into something that is useful and effective for not only ourselves but, the public and, local businesses too?
This is where Kenburn comes in. They have provided us with a highly effective carpet bailer which allows us to compress under a huge amount of force new carpet cut-offs. This leaves us with a bale of carpet which is then wrapped and prepared for distribution. The carpet is then shredded and blended with other fibres. After this stage, all the textiles are broken down into what we call 'flock.' The flock is then re-bailed and sent across to the felting process. Finally, the flock is reconstituted into a non-woven web which is thermal bonded into felt sheets.
We realise that our actions and initiatives account for only a very small percentage of the UK's contribution to improving our climate but, given what is going on in our world right now, every single step towards becoming 'more green,' is now more important than ever. It does not matter how big or how small your contribution is, it all counts. Luckily at the Floorstore, we have the capability to act upon climate change on a larger scale than many and so, we feel even more responsibility to act. Act is what we will continue to do. It is what we are committed to and it is something we will deliver on.