Vinyl Flooring
Vinyl flooring is more popular than ever before in the UK and around the world. A perfect blend of style, convenience and durability, luxury vinyl floors transform living spaces into warm, beautiful and comfortable homes. At Floorstore, you can find an amazing range of LVT flooring, to suit virtually any décor and personal taste. But before you select your favourite design, take a look at the info we've gathered on this page. You'll quickly understand why this innovative material is perfect for enhancing the look and feel of your home.
Where can you install a luxury vinyl floor?
Unlike solid or engineered wood flooring, luxury vinyl tiles and planks are suitable for areas with high humidity. Which means that you can easily transform the way a bathroom or a kitchen looks, at a significantly more affordable price compared to other types of flooring. But keep in mind that direct and prolonged exposure to sunlight may damage vinyl surfaces. This includes conservatories and other indoor/outdoor areas.
Stunning designs to choose from
Gorgeous designs and realistic wood and stone textures are perhaps the main reason why vinyl flooring has become so popular. Cheaper than the natural material, but high-quality, durable and just as beautiful, these luxury vinyl floors help home owners create their ideal décor on a budget.
Designs include everything from antique-style oak flooring to limestone-effect tiles or modern patterns. You can also choose an abstract pattern with geometric shapes, or a simple colour that complements your furniture. But whether you want to create the look of a country manor or of a Tuscan villa, you'll find the perfect luxury vinyl floor at Floorstore.
Vinyl flooring at a glance
Invented in the '30s, became popular in the late '40s
Low-cost but high-quality flooring solution
Beautiful designs that include wood and stone effect textures
A wide range of designs to choose from, to suit any décor
Products with tough, scratch-resistant surfaces
Great sound insulation
Water-resistant – perfect for bathroom and kitchen installations
Easy to maintain and durable thanks to a hard-wearing top layer
Easy to clean and to keep spotless
Softer, warmer and quieter underfoot than solid wood floors or natural stone tiles
Stain-resistant surfaces for more peace of mind
Easy to install, even by DIY enthusiasts
Suitable for use with underfloor heating
Many products are backed by impressive 20-year residential warranties
Products suitable for areas with heavy traffic in commercial properties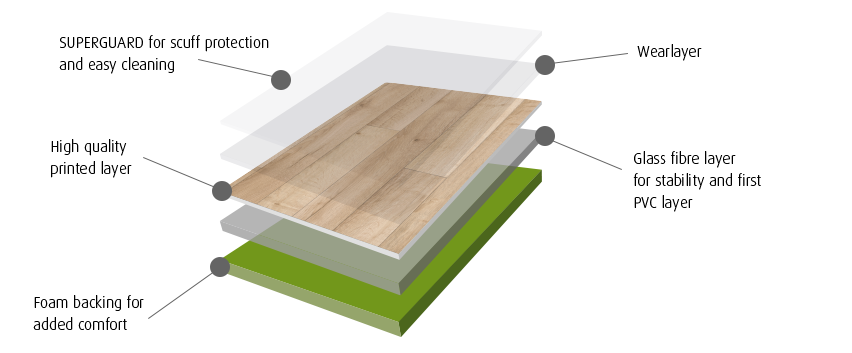 Flooring for modern homes
Apart from looking gorgeous, flooring should also be as convenient as possible. And you can't get much more convenient than luxury vinyl flooring. These types of floors are designed with a tough wear layer which makes the surface not only hard-wearing, but also extremely easy to clean. Stain and even scratch-resistant, these floors look like new for longer, even if they are installed in a busy family home.
Vinyl floors are also impressively durable, providing excellent value for money. Many designs are suitable for areas with heavy traffic in commercial properties, so you can rest assured that they'll handle just about anything in your home.
Easy to install, luxury vinyl tiles and planks can transform a room in next to no time. As long as the subfloor is perfectly smooth and dry, even DIY enthusiasts can install a vinyl floor. Plus, if one of the tiles become damaged, it can be replaced individually, so you won't have to buy a completely new floor.