Welcoming a new addition to your family is an exciting and joyous time. As you prepare your home for your little ones, one important aspect to consider is the flooring. Babies and small children spend a significant amount of time on the floor, crawling, playing, and exploring. It's crucial to choose a flooring option that not only creates a comfortable and inviting environment but also prioritizes safety. In this blog post, we will explore various child-friendly flooring options that are both practical and aesthetically pleasing.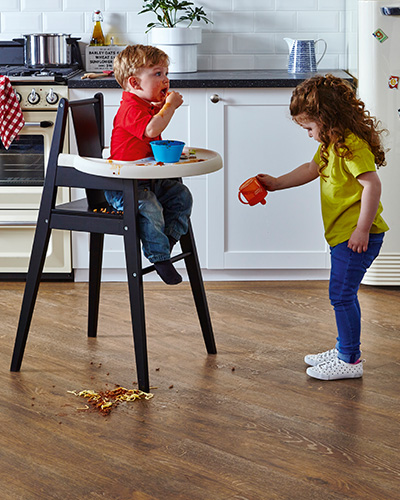 Child Friendly Flooring Solutions
Soft and Cushioned Carpets: Carpets provide a soft and cozy surface for babies and young children to play on, making it an ideal choice for nurseries and play areas. Opt for low-pile or plush carpets, as they are easier to clean and maintain. Look for carpets with built-in stain resistance for inevitable spills. Additionally, choose carpets with a high-density cushion or consider adding a thick, soft underlay for extra comfort and protection against falls. Take a look at our carpet range here.
Versatile Luxury Vinyl Tiles (LVT): LVT flooring has come a long way in terms of design and functionality. It offers a wide range of styles, including wood and tile looks, making it a versatile choice for child friendly spaces. Our vinyl flooring has been designed to withstand high-traffic areas and everyday wear and tear. Plus, if your little ones tend to trip and fall, our luxury vinyl floors will give your child a slightly softer landing as well as being extremely easy to clean when spillages happen. Take a look at our LVT range here 
Safe and Easy-to-Clean Laminate: Laminate flooring combines the appeal of hardwood with easy maintenance and affordability. Laminate floors are also easy to clean, making them an excellent choice for spaces where spills and messes are common. Take a look at our Laminate range here.
Conclusion:
When it comes to creating a child-friendly space, flooring plays a significant role in ensuring both safety and comfort. Consider the needs of your child and choose a flooring option that is soft, durable, and easy to clean. Whether you opt for carpets, vinyl, or laminate, there are various choices available to suit your style and budget. By selecting child-friendly flooring, you can create an inviting environment where your little one can explore, learn, and grow with peace of mind.