Karndean Designflooring provides a diverse range of luxury vinyl tiles suitable for various flooring spaces. Ranging from expansive commercial environments to cozy residential rooms. With a guarantee of 10-20 years, depending on the chosen product range. Karndean floors ensure long-lasting performance and durability.
Karndean product collection consist of three types of LVT flooring: Gluedown, Loose Lay, and Rigid Core. By exploring the advantages of all Karndean products, we aim to assist you in making an informed decision that perfectly aligns with your project's requirements.
Across the board, Karndean products share these compelling benefits, making them the ideal choice for your project:
No specialist cleaning products or treatment needed.
100% waterproof and guaranteed for up to 20 years.
Compatible with underfloor heating and quiet underfoot
Ideal for all projects, hygienic and slip resistant up to R11.
In addition, the benefits of the three types of products gluedown, rigid core and loose lay can be found below.
Gluedown LVT
Opt for Karndean's gluedown luxury vinyl tiles (LVT) for a flooring solution that guarantees secure adhesion to the floor surface, providing stability and reliability, particularly in high-traffic areas. This product range is perfect for those seeking a completely bespoke flooring design. Consider the gluedown option if:
You desire a floor with diverse laying patterns, design strips, and decorative borders.
You wish to combine stone and wood designs, creating a unique and personalised floor.
Your project entails a completely flat, dry subfloor, professionally prepared by a flooring expert.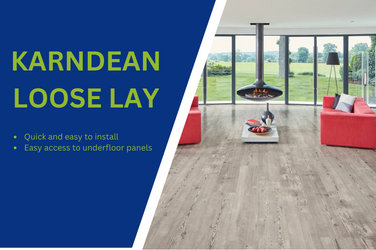 Lose Lay LVT
Experience the convenience and adaptability of Karndean's loose lay luxury vinyl tiles (LVT). This innovative flooring option offers easy installation and flexibility, enabling simple replacements or adjustments whenever necessary. opt for the loose lay range if:
You desire superior acoustics, making it ideal for applications like loft conversions or upstairs areas.
You prioritize quick installation, saving valuable time on your project.
Your sub-floor is smooth or damp, commonly found in new builds or extensions.
You prefer to minimise disruption by avoiding the removal of skirting boards during the installation process.
Rigid Core LVT
When it comes to durability and resilience, Karndean's rigid core luxury vinyl tiles (LVT) stand out as an exceptional flooring choice, specially designed to meet the demands of bustling commercial spaces.
Choose from our range of rigid core LVT if you seek a quick and efficient installation process, with the added advantage of being able to fit it over existing hard floors or uneven surfaces, providing a seamless transformation. Additionally, our rigid core LVT offers outstanding acoustic qualities, making it a fantastic choice for areas like loft conversions or upstairs rooms where noise reduction is desired.
Select rigid core LVT when:
You desire superior acoustics, particularly beneficial for loft conversions or upstairs rooms where noise control is essential.
You prioritize quick and straightforward installation, streamlining your project timeline.
You intend to install the LVT over existing floors, such as ceramic tiles or floorboards, or on uneven subfloors, eliminating the need for extensive subfloor preparation.
You encounter a damp subfloor situation, which can be common in new builds or extensions, as our rigid core LVT is designed to handle such conditions with ease.
If you want to know more about what Karndean can offer for your home or office, speak to one of our flooring experts. Message us here and we will get back to you.